Newcomer Learn to Canoe Summer Program - Registration Extended - Starting July 12!
---
---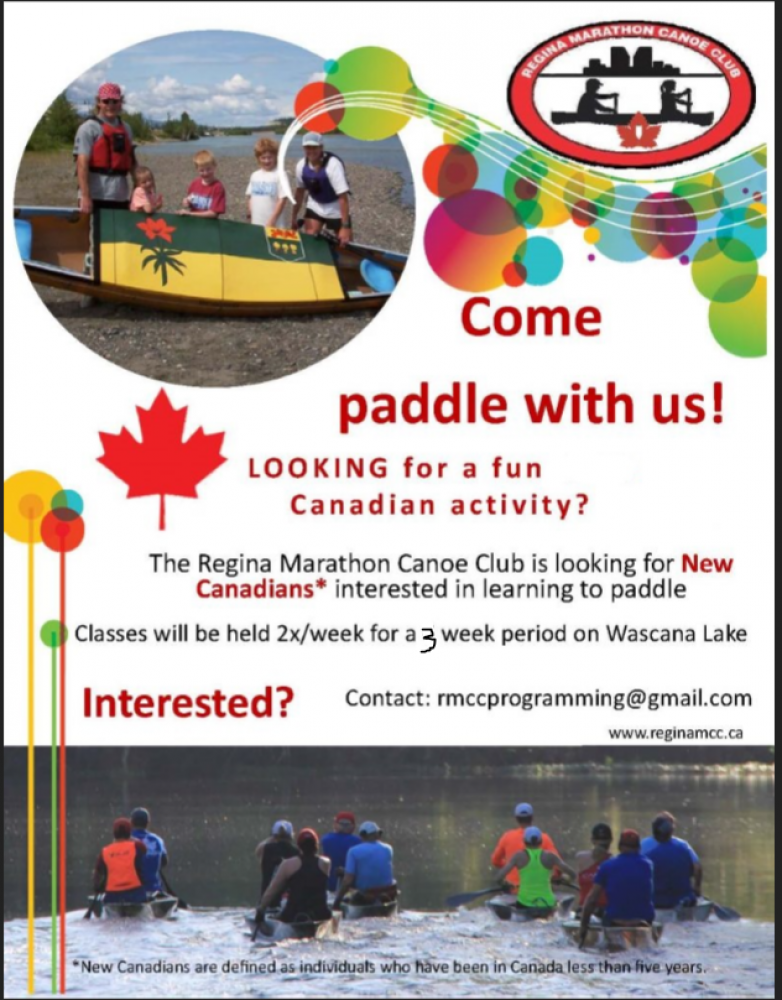 Learn how to Paddle a Marathon Canoe - Program for Newcomers!
The Regina Marathon Canoe Club is pleased to invite new Canadians to learn the sport of Marathon Canoeing, how to paddle, and the history canoeing has played in the story of Canada. We would like to invite any individual who has been in Canada for less than five years to come to this exciting experience.
There are 2 sessions a week, each session is 45 minutes long.
You have two different classes to choose from:
Group 1: Monday and Thursday: 10:15am - 11:00am
Group 2: Monday and Thursday 11:15pm - 12:00pm
First session starts on July 12, 2021
Last session will be July 29, 2021
After participation in the program, the Marathon Canoe Club offers two free sessions with our equipment in August.

The program will be:
● A 3-week program that will be split up with lessons on land and lessons on the water.
● Learning about the history the canoe played in the development of Canada.
● Learning about how to be safe on the water.
● Learning the marathon canoe technique that will help maximize efficiency on the water.
● Establishing basic paddling skills and paddling language while practicing.
All equipment is provided; but you need to bring a mask, a water bottle a hat and sunscreen! Dress appropriately for the weather.
The cost is $25 for adults, $20 for 10-17 yrs, Free for children 6-9 yrs, in your family. (Children 6 and older can participate in the program, but personal flotation devices (life jackets) for children under 13 years old are limited. Please contact [email protected] before registering to confirm availability).
Children can participate, however they must be with their parents or guardian in the same canoe until they are 13. Children must be 10 years old or older to use a paddle on the water.
You can pay by cash, cheque or e-transfer.
Register now to start next week (July 12). There will be 6 sessions. The sessions depend on the weather being good, so some may be cancelled if necessary.
To register, contact: [email protected] Fill out and email the Registration Form
For more information, read the Frequently Asked Questions
Please meet at the boathouse: 3000 Wascana Drive, underneath the Willow Restaurant. For your first class, please arrive a little early.
The Regina Marathon Canoe Club is a local Regina club, based in a boathouse at the Regina Marina. We run programs such as our New Canadians Initiative and our Learn to Paddle Clinics. Regina Marathon Canoe Club is supported through Canoe Kayak Saskatchewan and Sask Sports. www.reginamcc.ca
---