Income Tax Program. Free Help for Newcomers to File their Canadian Income Tax.
---
---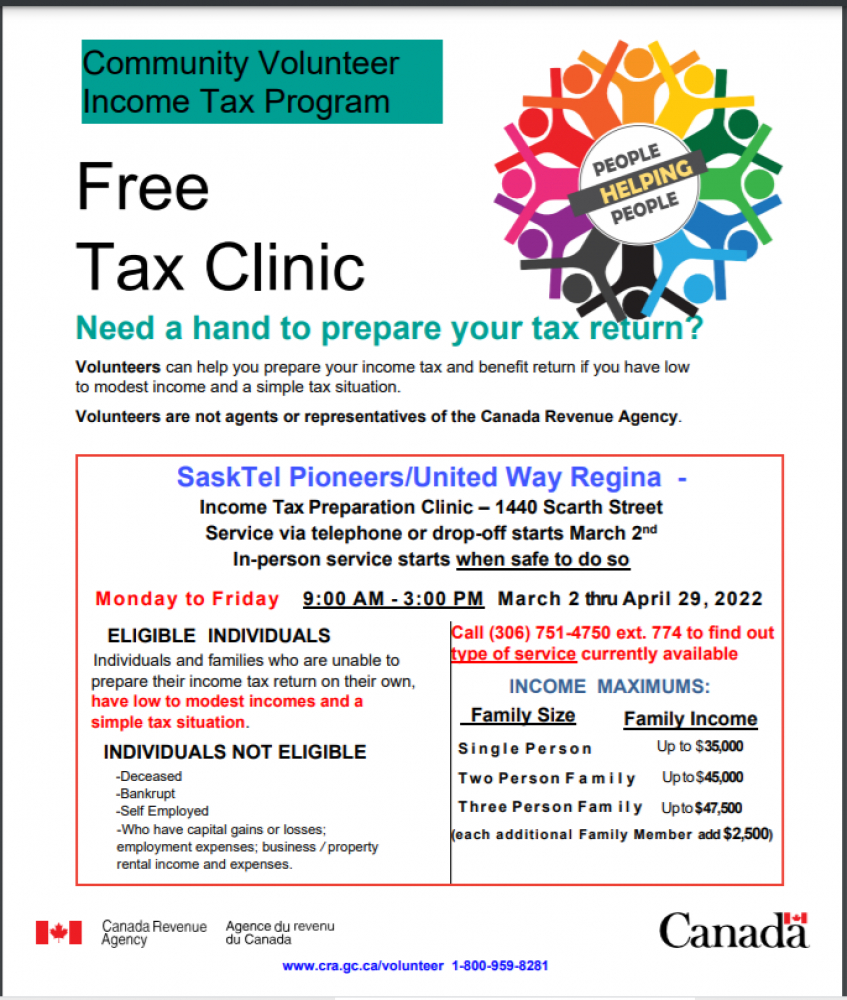 Community Volunteer Income Tax Program FREE TAX CLINIC!
Do you need help to prepare your tax return?
Volunteers can help you prepare your income tax and benefit return if you have low to modest income and a simple tax situation.
Volunteers are not agents or representatives of the Canada Revenue Agency.
SaskTel Pioneers/United Way Regina - Income Tax Preparation Clinic – 1440 Scarth Street
Service via telephone or drop-off - starts March 2nd
In-person service starts when safe to do so

Monday to Friday: 9:00 AM - 3:00 PM - March 2 thru April 29, 2022
ELIGIBLE INDIVIDUALS
Individuals and families who are unable to prepare their income tax return on their own,
have low to modest incomes and a simple tax situation.

INDIVIDUALS NOT ELIGIBLE
-Deceased
-Bankrupt
-Self Employed
-Who have capital gains or losses; employment expenses; business / property rental income and expenses.

Call (306) 751-4750 ext. 774 to find out type of service currently available

INCOME MAXIMUMS:
Family Size Family Income
S i n g l e P e r s o n Up to $35,000
Two Person Family Up to $45,000
Three Person Family Up to $47,500
(each additional Family Member add $2,500)
www.cra.gc.ca/volunteer 1-800-959-8281
---