Volunteer Opportunity with the RRLIP (Regina Region Local Immigration Partnership)!
---
---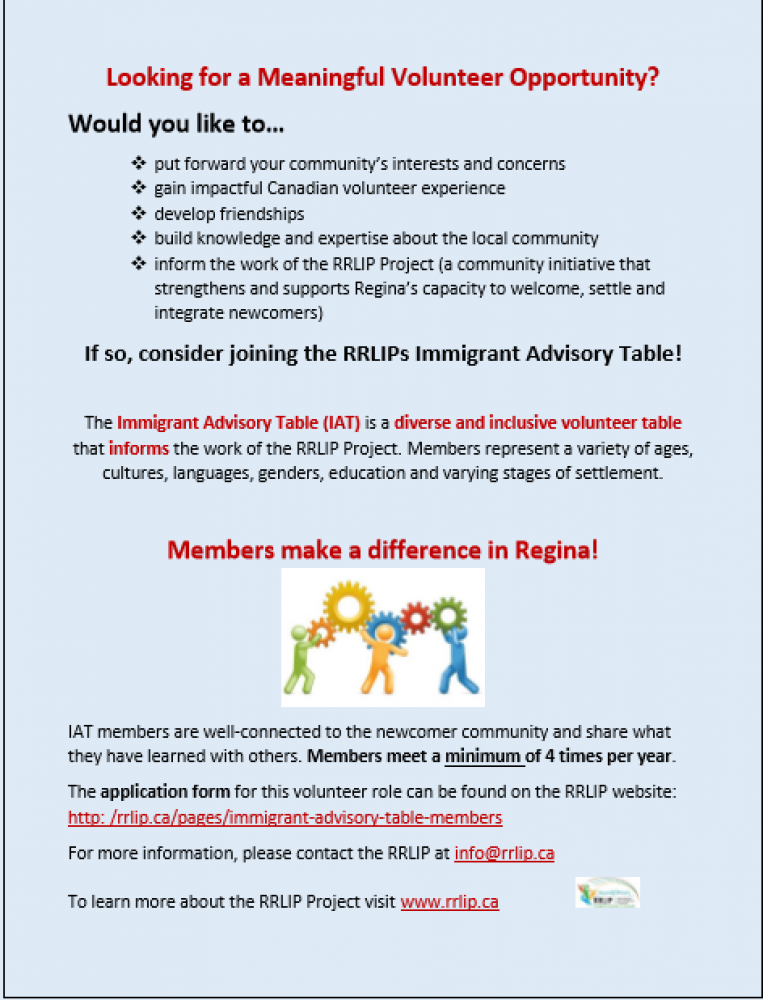 RRLIP is looking for members for the Immigrant Advisory Table. Please consider joining us!
Looking for a Meaningful Volunteer Opportunity?
Would you like to…
put forward your community's interests and concerns

gain impactful Canadian volunteer experience

develop friendships

build knowledge and expertise about the local community

inform the work of the RRLIP Project (a community initiative that strengthens and supports Regina's capacity to welcome, settle and integrate newcomers)
If so, consider joining the RRLIPs Immigrant Advisory Table!

The Immigrant Advisory Table (IAT) is a diverse and inclusive volunteer table that informs the work of the RRLIP Project. Members represent a variety of ages, cultures, languages, genders, education and varying stages of settlement.
Members make a difference in Regina!


IAT members are well-connected to the newcomer community and share what they have learned with others. Members meet a minimum of 4 times per year.
The application form for this volunteer role can be found on the RRLIP website: http: /rrlip.ca/pages/immigrant-advisory-table-members
For more information, please contact the RRLIP at [email protected]
To learn more about the RRLIP Project visit www.rrlip.ca
---