Saskatchewan Safety Council's Safety Seminar - Available Online Until Feb. 14th
---
---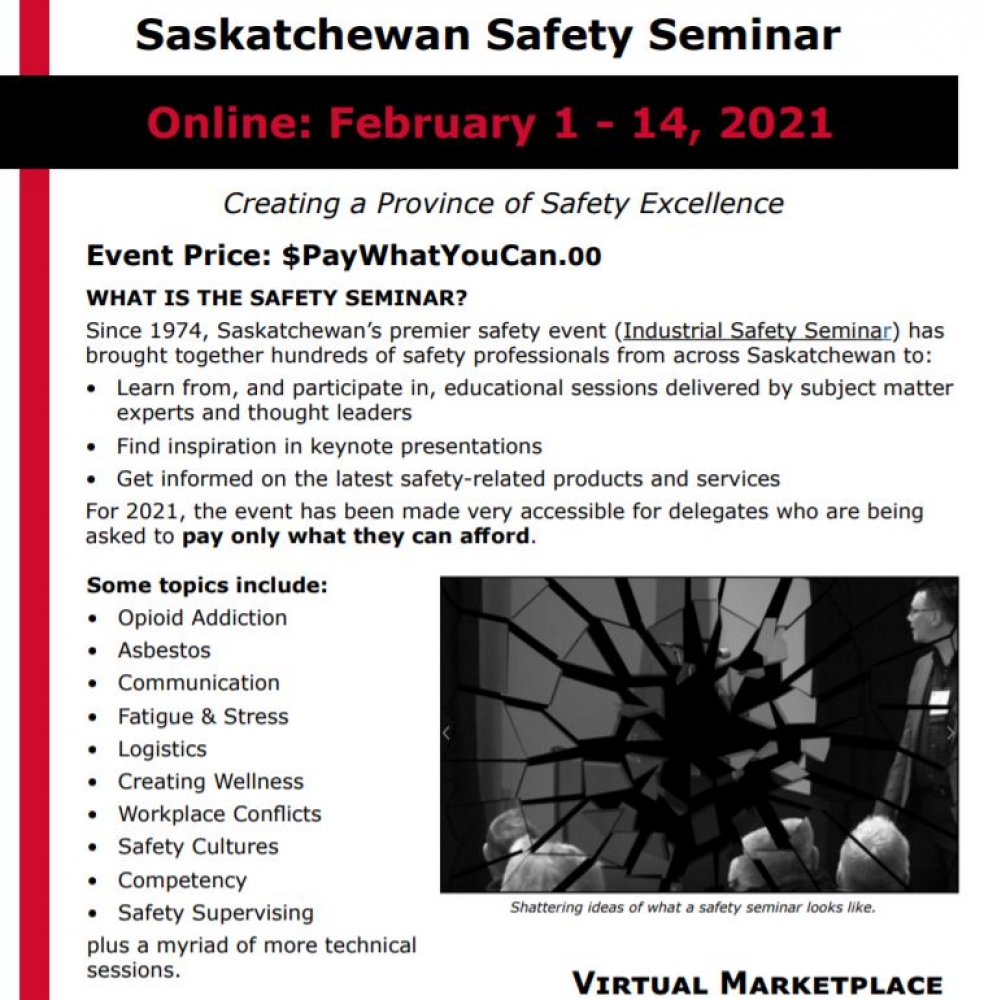 The Annual Safety Seminar is now online, and anyone can register to attend.
Who Should attend the Saskatchewan Safety Seminar?
This event is typically attended by safety managers and human resources professionals, occupational health and safety (OH & S) committee members, workplace supervisors, and interested individuals from small and medium-sized businesses. Delegates represent a large cross section of Saskatchewan industries including agriculture, mining, utilities, oil & gas, construction, heavy construction, logistics and warehousing, retail, provincial and federal regulatory agencies, and crown corporations. Although aimed primarily at business and industry, registration is open to anyone interested in safety.
Why Attend the Saskatchewan Safety Seminar?
​The Seminar is an excellent opportunity for new or experienced safety practitioners (or those who wish to learn from them) to attend professional development sessions with experts on a variety of current safety related topics and presents a networking opportunity like no other for like-minded individuals to expand their safety knowledge and community connections.
Participants leave with new and relatable information, knowledge of best practices, and tools which can be used to help improve and promote a safer work environment.
The cost to attend is "pay what you can" which means anyone can take advantage of engaging in the safety content.
For those interested in attending, visit the Sask Safety Council's website at www.sasksafety.org and click on the Saskatchewan Safety Seminar banner on the main page. Scroll down the page to register.
Sessions are pre-recorded so they can be watched at any time, until Feb 14th.
*Note that they will no longer be available after Feb. 14th.
---