Newcomer Learn to Canoe Summer Program
---
---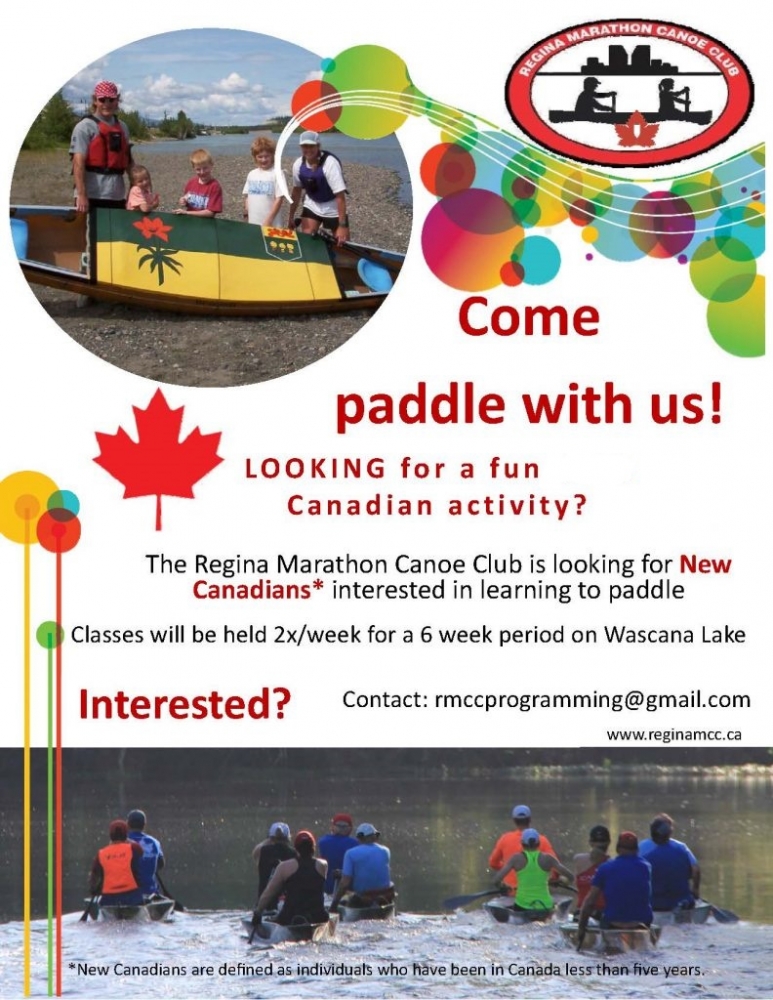 Learn how to Paddle a Marathon Canoe - Program for Newcomers!
The Regina Marathon Canoe Club is pleased to invite new Canadians to learn the sport of Marathon Canoeing, how to paddle, and the history canoeing has played in the story of Canada. We would like to invite any individual who has been in Canada for less than five years to come to this exciting experience.
There are 2 sessions a week, on Wascana Lake.
You have two different classes to choose from:
1) Mondays and Wednesdays (4:15 - 5:00 pm) OR
2) Tuesdays and Thursdays (4:15 - 5:00 pm)
All equipment is provided; you need to bring only a mask and a water bottle!
The total cost is $25/person or $100/family. (There are special canoes available for small children to ride along. Children 6 and older can participate in the program.)
You can pay by cash, cheque or e-transfer.
Register now to start next week (June 7). There will be 6 more sessions. The sessions depend on the weather being good, so some may be cancelled if necessary.
To register, contact: [email protected]
Please meet at the boathouse: 3000 Wascana Drive, underneath the Willow Restaurant. For your first class, please arrive a little early.
Some of the things you will learn at the class:
Having fun and being safe while on the water
Building water sense, comfort and awareness on the water
Basic paddling skills
The Regina Marathon Canoe Club is a local Regina club, based in a boathouse at the Regina Marina. We run programs such as our New Canadians Initiative and our Learn to Paddle Clinics. Regina Marathon Canoe Club is supported through Canoe Kayak Saskatchewan and Sask Sports. www.reginamcc.ca
---