New Program for Unemployed or Underemployed Individuals - Spaces Limited!
---
---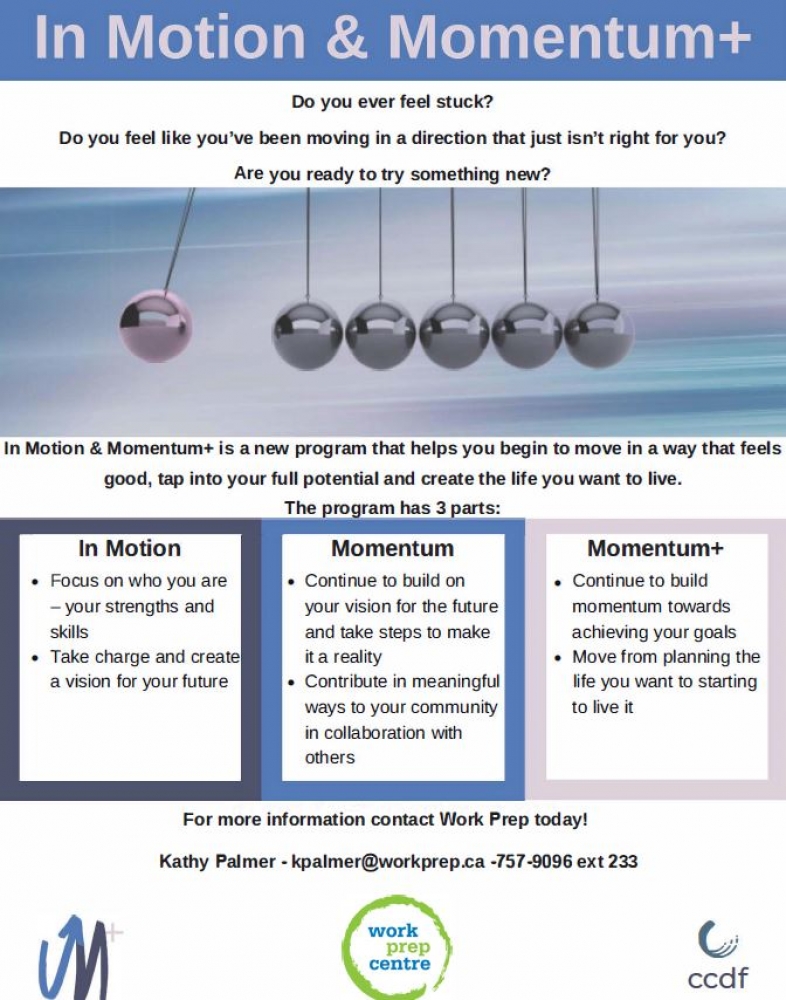 Regina Work Preperation Centre is excited to deliver a new program in 2021 in partnership with the Canadian Career Development Foundation.
The program is called In Motion and Momentum+ (IM&M+).
In Motion and Momentum+ (IM&M+) is a program for people who have significant potential for success in their lives.
It is especially useful for those who, for one reason or another, feel like they've been moving in a direction that is not right for them. The program is about moving in a way that feels good, applying your potential and creating the life you want to live.
The program has three parts:
1. IN MOTION is a 3-week program (3 days per week; 6 hours each day) and is about:
• Better understanding what's most important to you;
• Knowing the skills, strengths and supports you already have;
• Building and extending your skills, strengths and supports; and
• Shaping a vision for your life that feels exciting, right and possible.


2. MOMENTUM is a 4-week program (4 days per week for the first 3 weeks and 3 days in week 4; also 6 hours each day).
This second part helps you continue to build on your vision and move toward making it a reality. It is also an opportunity for you to meaningfully contribute to your community by taking part in a community project that you and others in the group choose as a way of making your community better.
3. MOMENTUM+ is a 6-week program (one day a week for 6 hours).
It helps you work toward living the life you want to lead by applyinh your strengths and skills, supporting you with the steps in your action plan, etc.
All sessions acknowledge that you already have lots of life experience, skills, important connections and wisdom – that you are the expert on your own life and in control of your own future. The program is about providing experiences and opportunities that help you take charge and live the life you want to live.
If you are interested in participating, contact Regina Work Prep Centre as soon as possible!
The first group starts on Feb 16, 2021.
---