"I'm Glad We Are Neighbours" Welcome Signs are Back in Regina!
---
---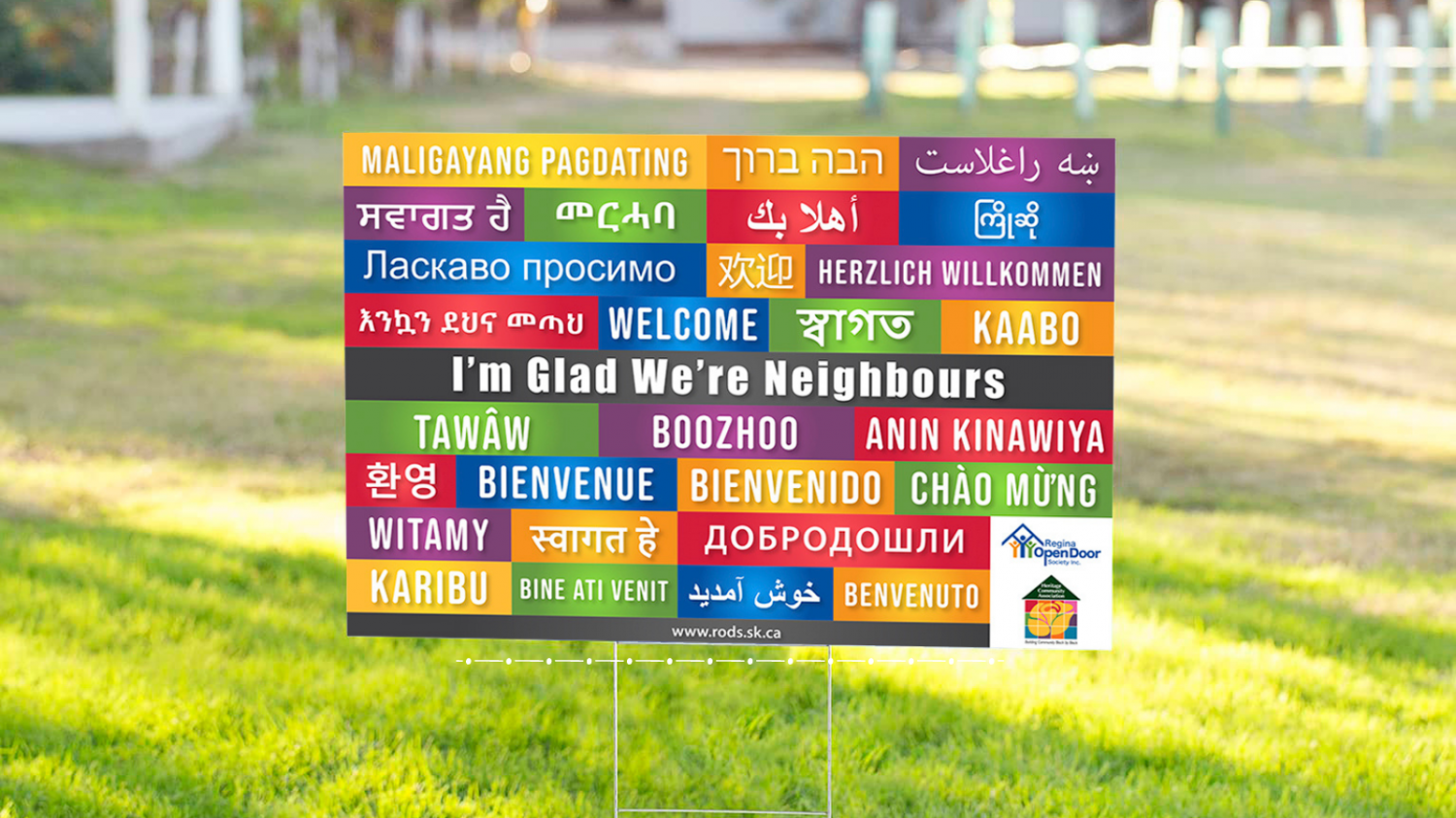 "I'm Glad We Are Neighbours" welcome signs are back!
The Heritage Community Association initially started the Welcome Signs project in response to Islamophobia in Canada and the United States. They created lawn signs so that people throughout the city could show their support to their Muslim neighbours and help newcomers feel welcome. The signs read "I'm glad we are neighbours" and the word "Welcome" in many different languages. It is a simple phrase with a powerful message of acceptance and welcoming.
The vision of the Regina Open Door Society is to build a welcoming community enriched by the diversity and strength of newcomers to Canada, so they have partnered with the Heritage Community Association to bring this project back to the community.
It is so exciting to see these signs across our city, especially at a time like this when amplifying the voices of people that make a welcoming community is more important than ever.
Starting September 15 until September 30, signs will be available by a cash donation to the Regina Open Door Society. The minimum suggested donation is $5. Donations will be used to pay for the cost of printing the signs and to continue to fund the project.
Italian Star Deli
1611 Victoria Ave, Regina, SK S4P 0P8
Tuesday to Saturday - 9:00-5:30 pm
Saturday - 9:00 am - 5pm
Sunday & Monday - Closed
Treasure's Cakes
1522 11th Ave, Regina, SK S4P 0H2
Monday to Friday 10:30 am - 5:00 pm
Saturday 10:00am - 5:00 pm
Sunday 12:00- 4:00 pm
Core Coffee & T+A Vintage
2078 Halifax St, Regina, SK S4P 1T7
Tuesday &Thursday - 9:00-3:00 pm Friday
Saturday & Sunday - 9:00-5:00 pm
Monday - closed
Malty National Brewing Corp.
1130 15th Ave, Regina, SK S4P 0Y5
Monday & Tuesday - 12:00-6:00 pm
Wednesday - Saturday 12:00-8:00 pm
Sunday 12:00-5:00
Ukrainian Co-Op
1805 Winnipeg St, Regina, SK S4P 1G3
Monday - Friday 9:30-5:30 pm
Saturday - 9:30-5:00 pm
Sunday - Closed
Queen City Wellness Pharmacy
1120 11th Ave, Regina, SK S4P 0G3
Monday to Friday - 9:00-6:00 pm
Saturday - 10:00-3:00 PM
Sunday - Closed
Heritage Community Association
1654 11th Ave, Regina, SK S4P 0H4
By Appointment - Please call: (306) 757-9952
If you are a business or organization that would like to carry these signs, please email v[email protected]
You can also order as sign online for pick up at the Regina Open Door Society here: https://rods.sk.ca/pages/im-glad-we-are-neighbours
Follow the campaign on RODS Facebook page: https://www.facebook.com/ReginaOpenDoor/
---