Experience Your Trade Using Virtual Reality - Tuesday, May 11th
---
---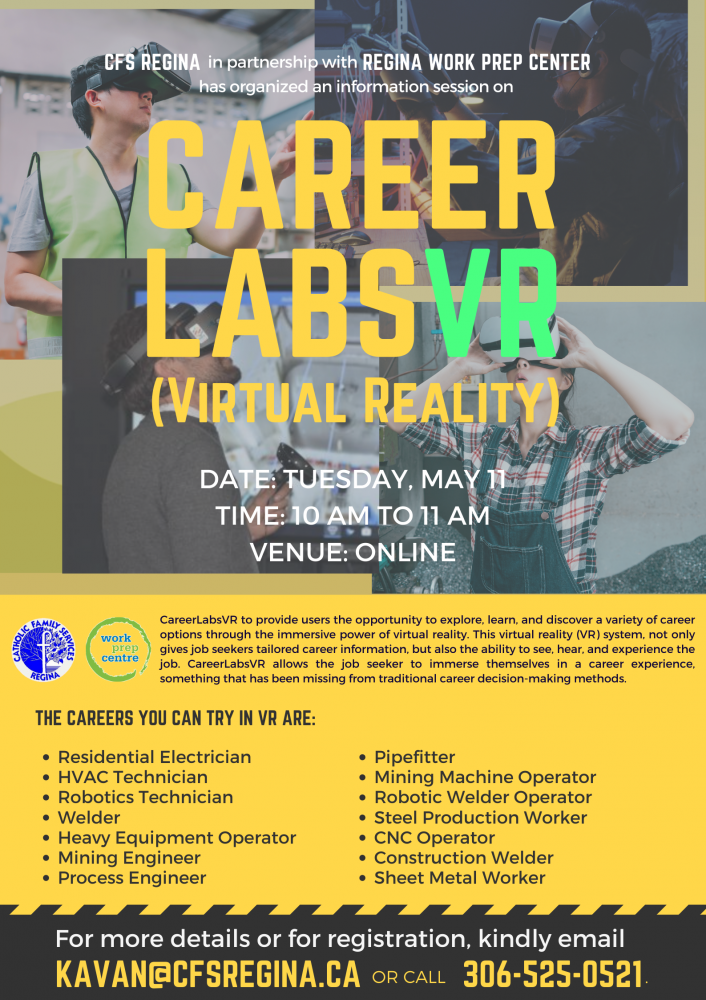 CFS Regina in partnership with Regina Work Prep Center has organized an information session on CareerLabsVR (Virtual Reality).
CareerLabsVR provides users an opportunity to explore, learn, and experience a variety of career options using virtual reality. This virtual reality system, not only gives job seekers detailed career information, but also allows the user to to see, hear, and experience the conditions of the job.
CareerLabsVR allows the job seeker to immerse themselves in a career experience, something that has been missing from traditional career decision-making methods.
The are a long list of careers you can try using the Virtual Reality system, including:
· Residential Electrician
· HVAC Technician
· Robotics Technician
· Welder
· Heavy Equipment Operator
· Mining Engineer
· Process Engineer
· Pipefitter
· Mining Machine Operator
· Robotic Welder Operator
· Steel Production Worker
· CNC Operator
· Construction Welder
· Sheet Metal Worker
Sample videos are also available by clicking on this link: http://workprep.ca/career-simulations/
Date: Tuesday, May 11, 2021
Time: 10 am - 11 am
Location: Online
To Register:
email [email protected] or call 306-525-0521
---