Erasing Racism: What Can WE Do? Come and Join the Conversation! Free Virtual Community Forum. March 17 - 1-3:30 pm.
---
---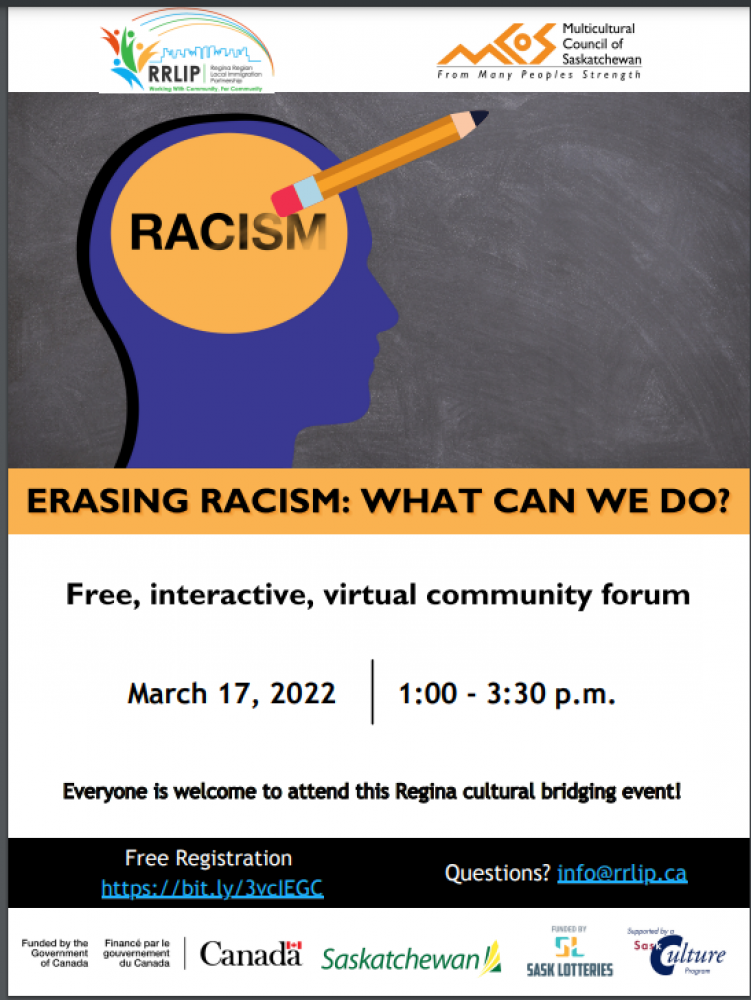 You are invited to join a free interactive virtual event focusing on different types of racism and discrimination and how to deal with these types of situations.

Local guest speakers will share their experiences with racism, how they were impacted, and what resulted.
This cultural bridging event is organized by RRLIP (Regina Region Local Immigration Partnership) in partnership with Regina Public Library, MCoS, and many other community organizations.
What to Expect that Day:
- Learn from guest speakers sharing their experiences with racism and discrimination
- Watch the 'Ripples of Racism' videos
- Receive educational info about racism and discrimination
- Small group discussion - application to real life scenarios and developing effective responses
- Leave the event with useful resources to take future action
- Receive info about upcoming/on-going events and initiatives addressing the issues of racism and discrimination
March 17, 2022
1:00 - 3:30 pm

View the poster here

Free, interactive, virtual community forum.
Everyone is welcome to attend this Regina cultural bridging event!
For more information, contact [email protected]
Register here or https://bit.ly/3vcIEGC
Please invite your contacts, neighbours, community and faith groups, families, colleagues! We want as many diverse voices to attend as possible!
---