Accepting Applications! Free Professional Development Training Program for Community Interpreters & Translators Working/Volunteering with Service Provider Organizations (SPOs) in Saskatchewan.
---
---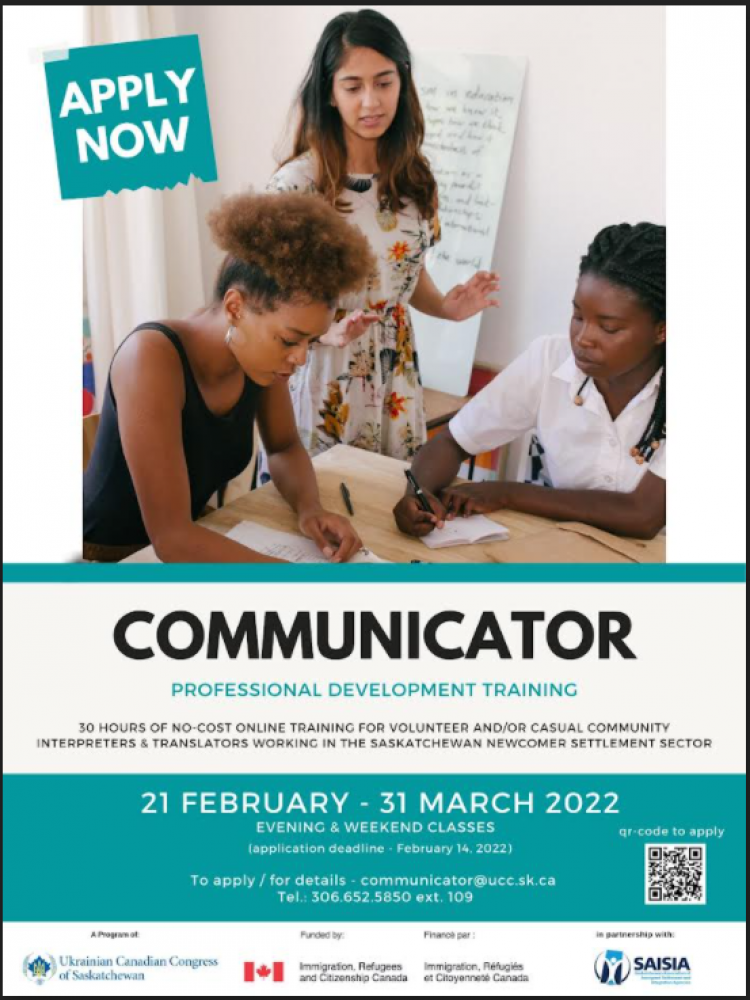 The Communicator program is currently accepting applications for the next 6-week intensive, scheduled to start February 21 – finish March 31, 2022.
Communicator is a professional development training program for community interpreters & translators who are currently working for or volunteering with service provider organizations (SPOs) in Saskatchewan.
This program is language neutral, there is no cost for the training, and program certification will be provided upon successful completion.
More info about the program - https://www.youtube.com/watch? v=bGY-3-1Bq0k
Only 14 seats are available in this cohort. Eligibility for this training opportunity is as follows:
- Community interpreters/Translators currently working/volunteering with an SPO in Saskatchewan
- Bilingual (English + one other language) with advanced proficiency in both languages
- 18+ and legally entitled to work in Canada
- Available to attend all online training sessions which will be offered in 2-hour blocks (total of 30 hours of virtual training plus individual homework assignments)

The link to the application form is here: https://forms.office.com/r/ qshsTDctuU
Application deadline is February 14, 2022, and a selection process will follow close of applications.
Class schedule, dates and times will be finalized prior to start of online sessions but this will be an intensive, with evening and weekend classes.
For more information, contact [email protected]
***From a UCC article about the first training cohort: This program funded by Immigration, Refugees and Citizenship Canada offers 30 hours of no-cost training to volunteers or casual translators and interpreters engaged by various non-profit agencies that support newcomers when they access public services. The objective of the program is to deliver standardized professional development training in areas such as key concepts in translation and interpretation, practical experience in service delivery, professional ethics, and management of these services.

The program is a collaborative effort of several agencies and uses a train-the-trainer model of delivery. In the Spring of 2021, a pool of qualified trainers was formed as part of Phase 1, and new trainers put their skills to the test with the first cohort of language practitioners. The 26 program graduates collectively speak more than 20 languages, including Arabic, Farsi, Hindi, Mandarin, Romanian, Russian, Somali, Spanish, Tagalog, Tigrinya, Ukrainian, Urdu, Vietnamese, and some rare but in-demand languages, like Afar and Oromo.***
---