WES Partners with Five Communities Across Canada to Find Solutions to the Skills Shortage
---
---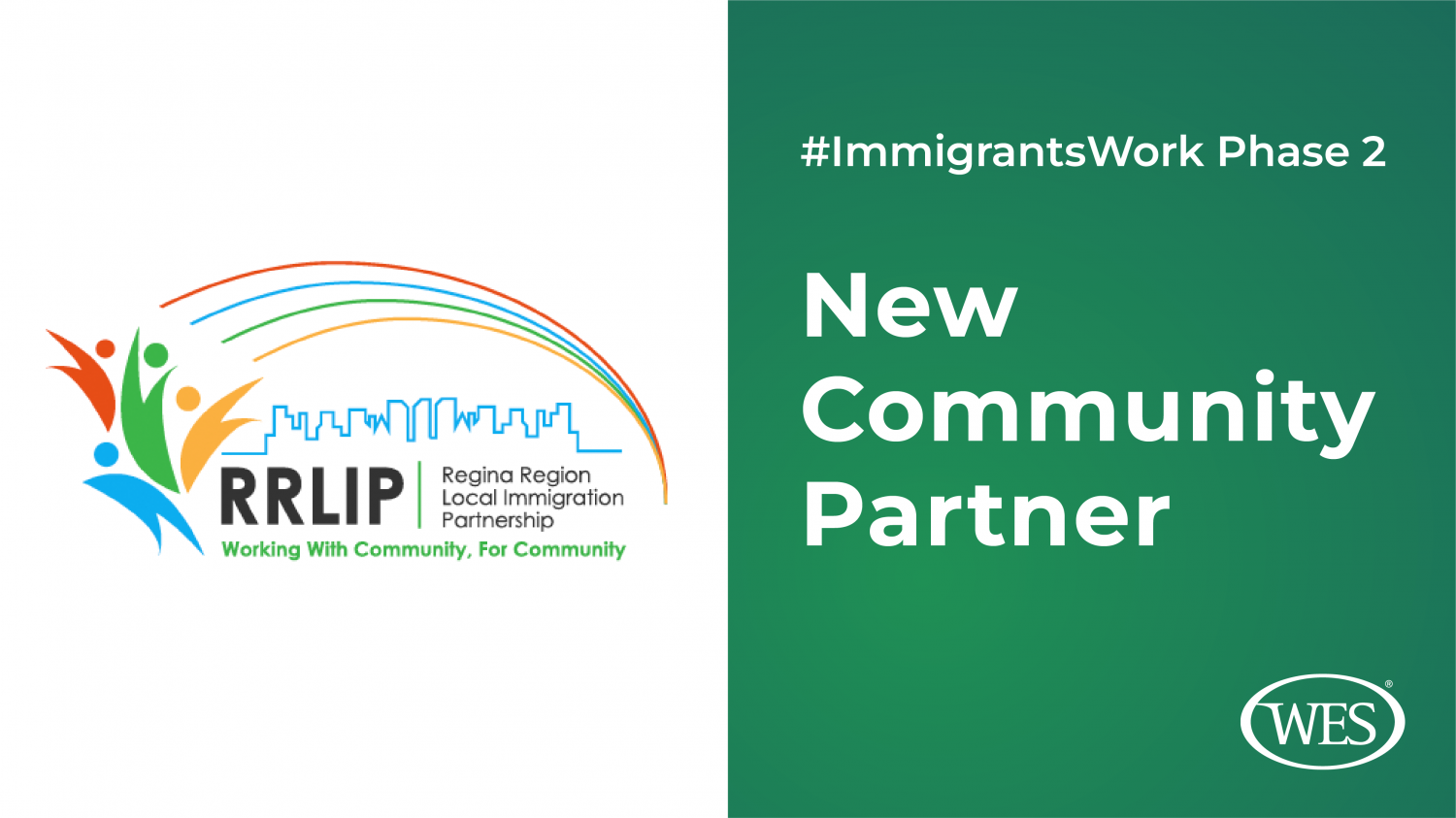 WES Partners with Five Communities Across Canada to Find Solutions to the Skills Shortage
Communities across Canada are struggling to find the talent they need. With the labour force expected to be close to 100 percent dependent on immigration to fuel growth, the communities' need for immigrant talent has never been greater.
In response to the ongoing Canadian labour crisis, WES launched #ImmigrantsWork to work with community partners in mobilizing local employers to co-design solutions that help identify, recruit, hire, and retain local immigrant talent. Building on the successes and learnings from a pilot phase, World Education Services (WES) is proud today to announce the names of the five new communities across Canada that will be joining the second phase of the #ImmigrantsWork initiative:
· Grey and Bruce Counties, Ontario
· Lanark and Renfrew Counties, Ontario
· Regina, Saskatchewan
· Tri-Cities (Coquitlam, Port Coquitlam, Port Moody), British Columbia
· Winnipeg, Manitoba
"We know that there has never been a greater need for scalable localized solutions that harness immigrant skills," said WES Managing Director Shamira Madhany. "Communities in rural and northern Canada are particularly affected. That's why we are so delighted to pursue these new partnerships with these communities."
In November 2022, WES launched a call for expressions of interest (EoI) for the second phase of #ImmigrantsWork and in response received more than a dozen submissions from organizations representing communities all over Canada.
About the #ImmigrantsWork Initiative
In late 2021, WES identified three pilot communities: the Regional Municipality of Waterloo, the Regional Municipality of Durham, and Greater Moncton. The first phase of the #ImmigrantsWork pilot program was successfully completed in 2022, resulting in the launch of Employer Playbook: Strategies for Immigrant Inclusion in Canadian Workplaces, a digitized and localized employer resource that was well received by employers and workforce development stakeholders across the pilot communities.
The upcoming phase of #ImmigrantsWork will sustain the momentum and build on the success of the earlier phase, testing the program in new communities that have different needs and capacities.
"The #ImmigrantsWork program reinforces WES' commitment to addressing workforce shortages through an innovative community engagement initiative, anchored in collective action to drive systemic change in Canada's labour market," said WES Managing Director Shamira Madhany. "Insights gained throughout the work with local employers and communities will further enrich WES' policy and programmatic work with national business associations and will have a long-lasting impact on immigration and labour policy."
#ImmigrantsWork Partners:
Following a rigorous evaluation, WES identified five lead organizations that will act as the primary local point of contact and support the local #ImmigrantsWork network. They are:
Grey Bruce Local Immigration Partnership: Building a more welcoming and inclusive Grey Bruce is the foundation of the Grey Bruce Local Immigration Partnership (GBLIP). In 2020, Grey and Bruce Counties received funding from Immigration, Refugees and Citizenship Canada (IRCC) to administer the GBLIP—a collaborative community initiative designed to fill critical gaps in the local labour force by improving the successful integration of newcomers. The GBLIP works at the local level to foster a sense of belonging and supports various stakeholders in building their capacity, raising awareness of the needs of newcomers, and supporting community-level research and planning. The GBLIP recognizes that immigration will continue to play a key role in the economic future of Grey and Bruce Counties. Learn more about GBLIP at greybrucelip.ca.
Local Immigration Partnership: Lanark and Renfrew: Funded by IRCC, its purpose is to bring together service providers, settlement agencies, community groups, employers, municipalities, and other key organizations to develop welcoming communities that are inclusive of newcomers. In Lanark and Renfrew Counties, the work of the Local Immigration Partnership is administered by Algonquin College – Pembroke Campus. For more information, visit liplanarkrenfrew.ca.
Local Immigration Partnership: The Regina Region Local Immigration Partnership Project (RRLIP Project) convenes partners to collaboratively address the needs of newcomers and enhance their successful settlement in Regina. Guided by the results of its most recent community consultation activity (the 2022 RRLIP Newcomer Survey), the RRLIP's current action plan addresses local priorities for enhanced settlement outcomes. Labour market integration has consistently been identified as a top priority, and thus the RRLIP views the partnership with WES as a natural extension of this ongoing collaborative work in Regina, and as a source of support. For more information about the RRLIP, visit www.rrlip.ca.
S.U.C.C.E.S.S. (aka United Chinese Community Enrichment Services Society): The Tri-Cities Local Immigration Partnership (TCLIP) brings community leaders and organizations across multiple sectors together to develop welcoming and inclusive communities where established residents and newcomers feel a sense of belonging and attachment. TCLIP supports the communities of Anmore, Belcarra, Coquitlam, Port Coquitlam, and Port Moody through engagement, capacity building, and collaborations to enhance newcomers' and immigrants' meaningful participation in the economic, social, cultural, and civic life of the community.
Immigration Partnership Winnipeg: Immigration Partnership Winnipeg is a Local Immigration Partnership that exists to provide a collaborative framework to facilitate the development and implementation of sustainable local solutions for the successful integration of newcomers in the city. Its vision is to help make Winnipeg a welcoming and inclusive multicultural city where everyone finds the support and opportunities they need to realize their best potential. Find out more at ipwinnipeg.org.
Quotes:
"The Grey Bruce Local Immigration Partnership is excited to be selected for the 2023–2024 #ImmigrantsWork program. Under the leadership and expertise of World Education Services, GBLIP will implement community-driven solutions, mobilize resources, and effectively support local employers in addressing barriers to hiring and retaining immigrant talent across Grey and Bruce Counties." Deepikaa Gupta, coordinator, Grey Bruce Local Immigration Partnership
"We are grateful to be partnering with WES on Phase 2 of the #ImmigrantsWork initiative. Rural communities in Lanark and Renfrew Counties are struggling to meet labour market needs. Being part of the #ImmigrantsWork initiative will enable us to create a localized plan focused on supporting employers in their recruitment and retention of immigrant talent. Our communities must grow and become more diverse to thrive." Sarah Hall, dean, Algonquin College – Pembroke Campus
"The Regina Region Local Immigration Partnership is excited to partner with WES and to act as community lead in the #ImmigrantsWork 2023–2024 initiative. The RRLIP is committed to collaborating with key community partners to co-create a local strategy that encourages immigrant talent inclusion. Identifying and addressing the barriers that many local employers face when hiring and retaining newcomers will be the foundation of this plan." Carol Brouwers, Project Manager, Regina Region Local Immigration Partnership
"The Tri-Cities Local Immigration Partnership is delighted to partner with WES on #ImmigrantsWork. With this initiative, local employers are engaged to better understand how to access the diverse talents and skills immigrants bring to the community, while strengthening inclusive practices to retain talent and foster innovation." Ryan Drew, co-chair of TCLIP and director of Integrated Services for Newcomers with S.U.C.C.E.S.S. "The partnership with WES will benefit the Tri-Cities community by enabling meaningful connections between employers and newcomer job-seekers that recognize newcomers' unique skills, lived experience, and international work experience while supporting employers' labour needs." Claire MacLean, co-chair of TCLIP and chief executive officer of SHARE Family & Community Services Society
"We are excited to partner with WES as an organization that champions and supports newcomers in Canada and the United States. We think that their goals align with the work of IPW and that this partnership will enhance our work with Winnipeg employers to provide meaningful employment opportunities for Newcomer Communities." Reuben Garang, director, Immigration Partnership Winnipeg
---