Were You Born Outside of Canada, and Now Live in Regina? RRLIP Would Like to Understand Your Settlement Challenges, and Get Your Ideas and Suggestions!
---
---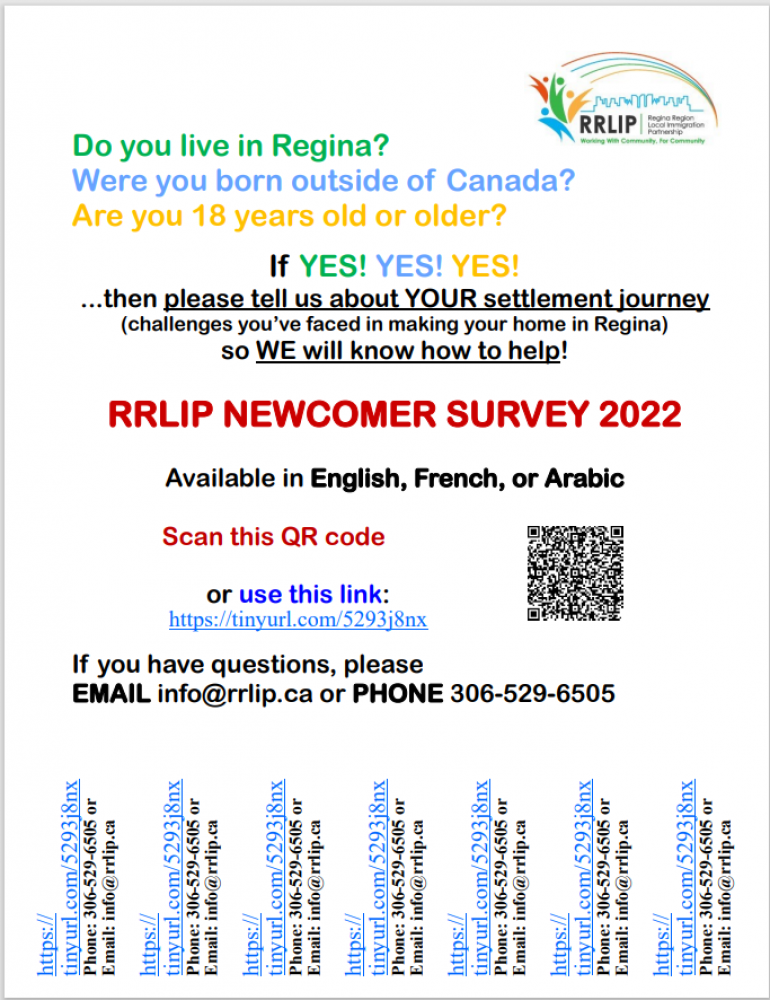 Regina Region Local Immigration Partnership (RRLIP) has created this Survey to learn about needs and challenges for settling in this community, by those born outside of Canada, who now live in Regina.
We are interested - whether your settlement was very recent or many years ago!
Your answers and suggestions will help us focus our work in Regina in the coming years.
Regina Region Local Immigration Partnership (RRLIP) works to support and strengthen Regina's capacity to welcome, settle, and integrate newcomers. Areas of present priority are Labour Market Access and Connections, Cultural Bridging, and Exchange, Housing Education Support and Mental and Emotional Wellness.
As well, local service providers and other support services may use this information to:
- better understand the challenges newcomers face
- improve program and service delivery
- improve outreach strategies to newcomers, etc.
We invite you to complete this survey if you were born outside of Canada and are now 18 years old or older and living in Regina, so your voice can be heard.
Survey link: English, French and Arabic versions
https://tinyurl.com/5293j8nx
The survey may take approximately 10-15 minutes to complete; however, you will be able to pause, save, and continue later.
You will not be identified in the survey, and it is confidential.
The survey results will be available on the RRLIP website (www.rrlip.ca) after October 2022.
Please let us know if you have any questions.
Contact Janell at [email protected] or by phone at 306-529-6505.

Thank you for taking the time to help Regina become a more welcoming and inclusive place for newcomers to live!
Please share this survey widely, with any people born outside of Canada and living in Regina who are over 18. We want as many voices as possible represented.
(It is very helpful to also hear from people who have lived here a long time, who came originally as newcomers - to see what challenges people are facing at all stages of the settlement journey, not just those who have arrived recently.)
Feel free to make a copy of the poster, to post in your business, faith community, workplace, etc.
Download the poster here:
---