Saskatchewan Winners! Mental Health Research Canada is Funding Grants for 3 Research Projects.
---
---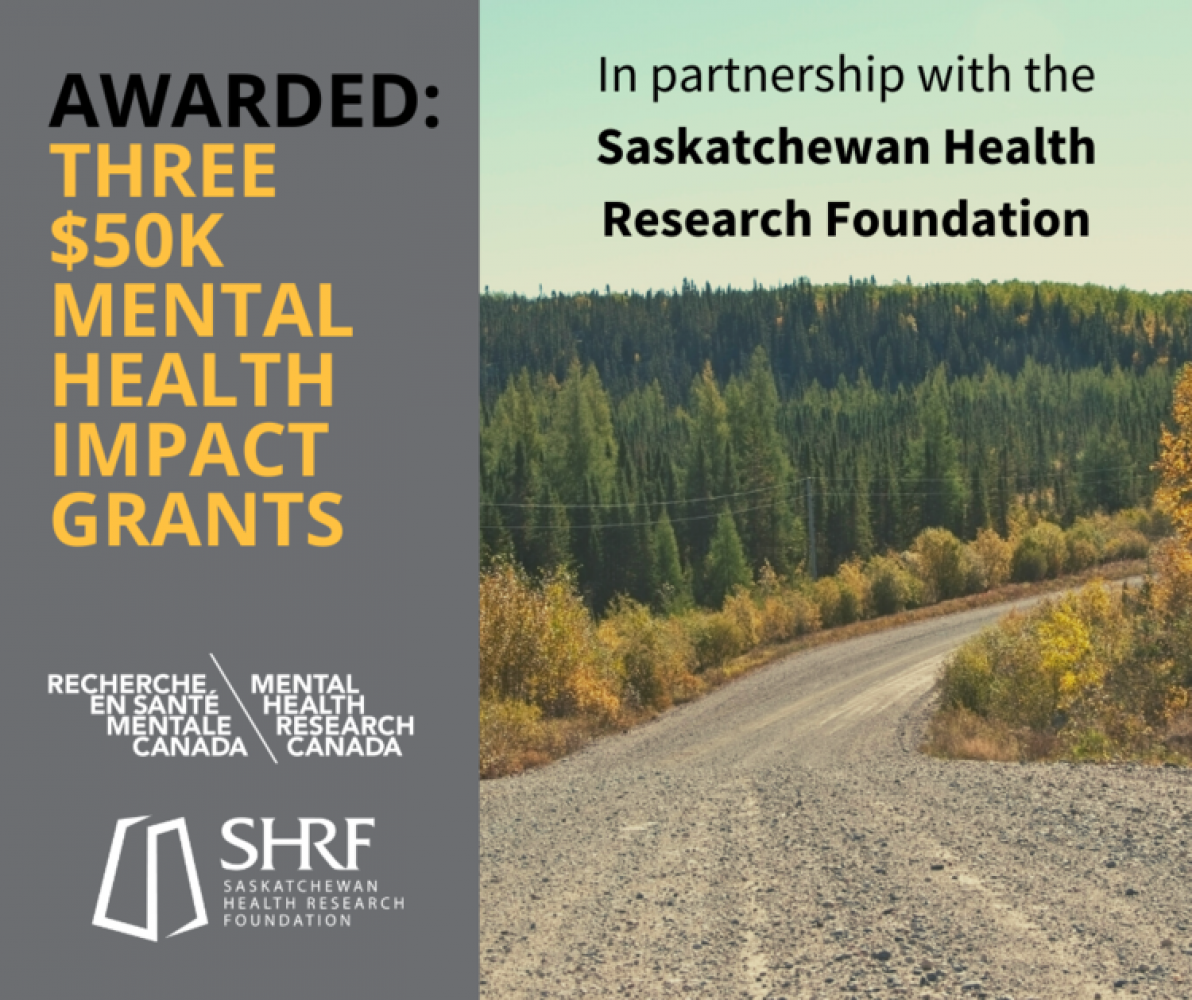 Enhancing mental health services in Saskatchewan: the winners of our 2021 MHRC-SHRF Mental Health Impact Grant
Learn about three new research projects being funded in partnership with the Saskatchewan Health Research Foundation at $50k each. Based out of the Universities of Saskatchewan and Regina, these three impactful projects each target a unique aspect of mental health to advance the quality of mental health services across the country.


Project 1: Co-developing mental literacy and self-care resource for racialized newcomer youth in Regina, Saskatchewan: A youth-led participatory action research
Co-Principal Investigators: Dr. Geoffrey Maina, University of Saskatchewan and Dr. Razawa Maroof, Regina Community Clinic

Canada accepts approximately 300,000 newcomers every year and youth (12-17 years) account for 22-50% of this population. Acculturation transitions, which entail wide-ranging cultural shifts for newcomers, such as moving to new economic, political, and social systems, creating new social networks, and shifting into a new culture, are mentally stressful.
This stress is aggravated by language variations, perceived discrimination, loss of support network, and new cultural environments. There is, therefore, an urgent need to develop innovative programs to create awareness of the mental health needs of racialized newcomer youth and empower them to engage in mental health self-care.
This study aims to build capacity for immigrant youth to articulate the impact of immigration processes on their mental wellbeing and involve them in the development of an intervention to support their mental wellness. It will explore, document, and share the impact of immigration on the mental wellbeing of newcomer youth, and collaboratively co-develop mental health literacy and self-care resource to promote mental wellbeing using community-based participatory action research.



Project 2: Take Up Space, You Matter!: Fostering (Re)Connection After the Pandemic through Trauma-Informed Community Arts Programming
Co-Principal Investigators: Dr. Charity Marsh, University of Regina, Humanities Research Institute/Faculty of Media, Art & Performance, and Danielle Sakundiak, Girls Rock Regina
In 2019, Saskatchewan's Advocate for Children and Youth identified mental health as the top issue facing Saskatchewan's children and youth. A survey of Saskatchewan students grades 7-12 reported: 60% being bullied; 38.6% experiencing depressive symptoms; and, 23.4% as having considered suicide in the 12 months prior to the survey.
Now, in the midst of COVID, youth are expressing a dramatic increase in negative levels of anxiety, control, support, screen time, and less physical activity.
This study seeks to research the impacts of trauma-informed arts-based engagements in dance, music, and skateboarding on youth's mental health and wellbeing. Partnering with local arts-based organizations, the research team will co-create a series of workshops to assess the mental health benefits for participating youth and facilitators.
This project responds directly to the impacts of isolation and anxiety youth have been experiencing during COVID-19 through trauma-sensitive engagements which will be shaped to increase self-regulation and build healthy relationships.



Project 3: Pathways and Barriers to Access and Utilization of Internet-Delivered Cognitive Behaviour Therapy (ICBT) by Diverse Ethnocultural People of Saskatchewan
Co-Principal Investigators: Dr. Heather Hadjistavropoulos, University of Regina and Dr. Ram Sapkota, University of Regina (Online Therapy Unit)
The psychosocial impact of the COVID-19 pandemic and concomitant treatment needs represents an unknown for all of us. As the COVID-19 pandemic unfolds creating complex life situations, an increase in mental health problems and service needs in the general population is to be expected.
In Saskatchewan, the Online Therapy Unit (OUT) has been providing online mental health care for more than a decade now, and the advent of therapist-assisted Internet-delivered Cognitive Behaviour Therapy (ICBT) in 2010 by the OTU, located at the University of Regina, has made a significant impact on expanding access to psychological services for depression and anxiety in the province of Saskatchewan.
However, there is consistently low participation and utilization of ICBT by the diverse ethnocultural groups and/or communities (DEGC). The most common identified barriers to mental health care in Canada such as cost, excessive wait times, and insufficient funding do not apply to this iCBT as it is available free of cost to the residents of Saskatchewan.
This study aims to identify and qualitatively explore the potential pathways and barriers to access and utilization of iCBT by DEGC in Saskatchewan. Exploration of these barriers may provide insights and contribute to mitigating them, thereby improving, and expanding accessibility and utilization of ICBT by these groups.


Read about each of the winning projects and what they aim to achieve on the Mental Health Research Canada website.

---