Newcomer Youth Programs! Homework Help and Young Leaders Program - Free! Regina Open Door Society (RODS)
---
---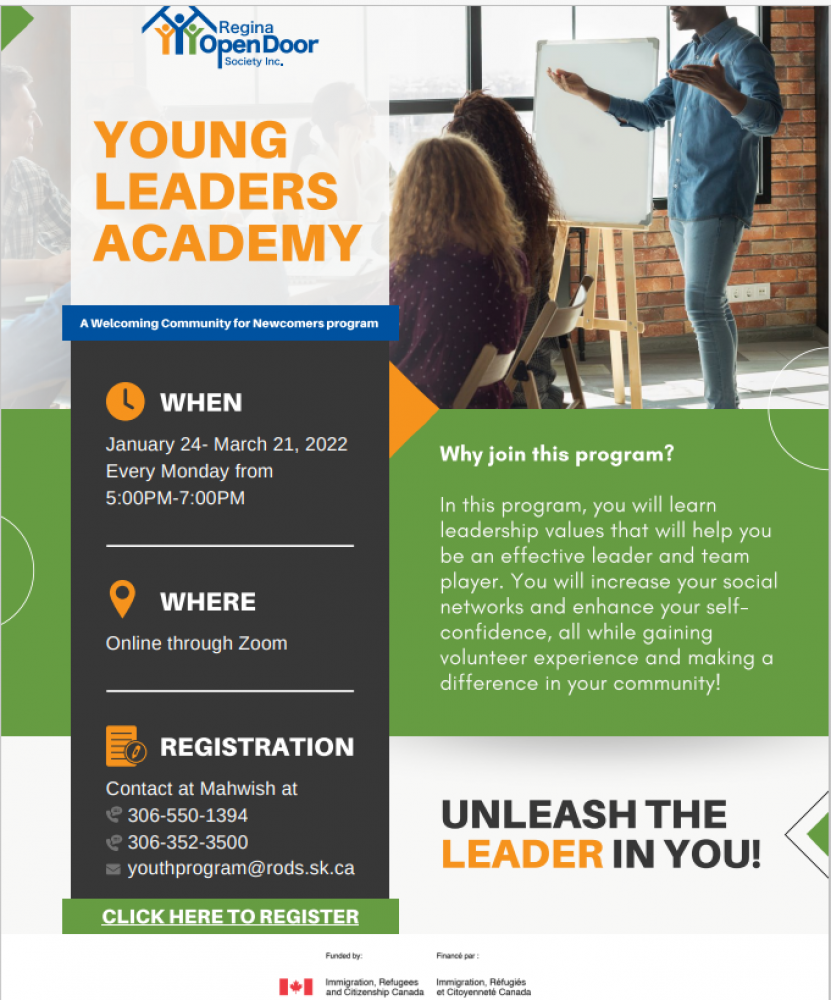 Youth Leadership Program
The Welcoming Community for Newcomers – (WCN) RODS Youth Program is pleased to announce its Young Leadership Program for the year 2022!
The Young Leaders Program is a youth leadership program designed to hone the newcomer youth into pro-active and responsible citizens that are ready to make a difference in the community.
For eight weeks the newcomer youth participants will undergo a series of trainings and workshops that include:
- knowing your leadership skills
- financial literacy
- spiritual aspect & physical health
- mental health
- importance of volunteering
- academic
- antiracism and discrimination and
- employment skills.
Eligibility: Permanent residents only.
Date: January 24 - March 21, 2022
Time: Monday from 5:00PM -7:00PM
Age : 13 - 24
Via Zoom: The link to join the session will be sent after you have registered.
See poster here

Registration link: https://rods.sk.ca/Rods-Young-Leaders-Academy-Form
If you have any questions regarding the registration please contact Mahwish Faiyaz:
Phone: Mahwish at 306-550-1394
Email: [email protected]
If you are a parent/guardian of youth under the age of 18, please read and sign this parent consent form https://rods.sk.ca/rods-parent-consent-form
Homework Help After School Program for Newcomer Youth
The aim of this program is to assist newcomer youth with their academic needs and help them build self-confidence in completing their school projects on time.
It is led by RODS youth staff and facilitated by volunteers from the community.

This program is open to youth ages 13 – 24 who are Permanent Residents (PR)
Every Tuesday and Thursday during the school year
Starting January 18, 2022
5:00PM – 7:00PM
VIA Zoom
Registration Link: https://rods.sk.ca/rods-homework-club-registration-form-
If you have any questions about this program, please contact Zainabu: [email protected] or call 306-550-1839.
---