Newcomer Youth - Homework Help and Coding Camp!
---
---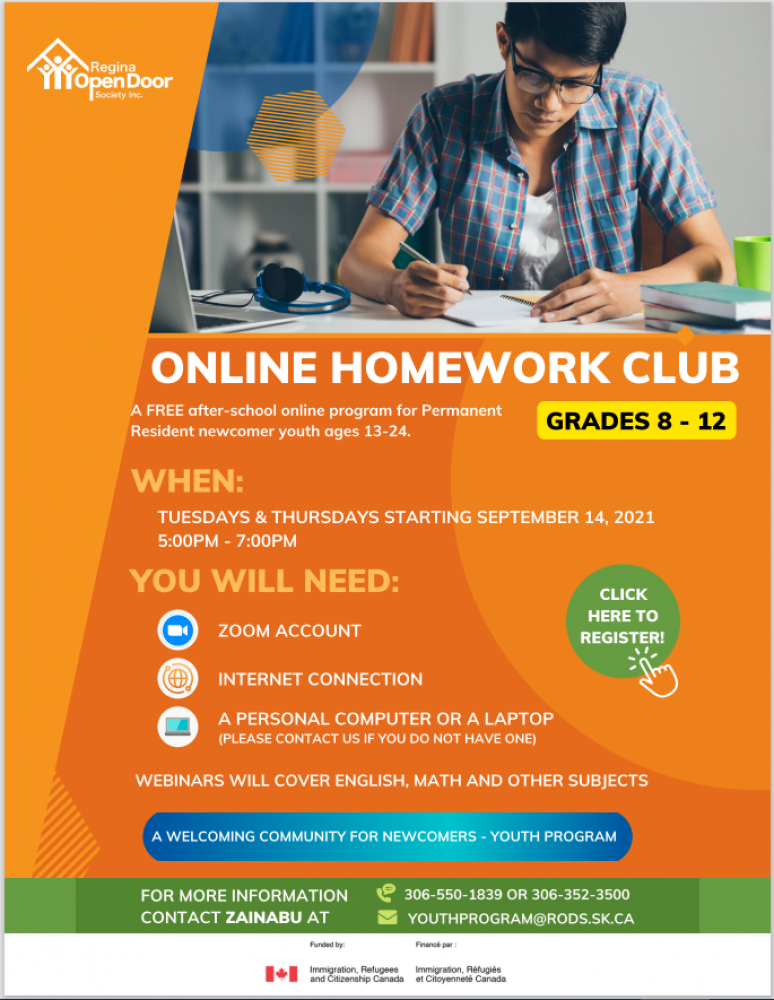 Homework Help after school program for newcomer youth, for the year 2021 – 2022.

- Homework Help started September 14th, and is ongoing
- 5:00PM – 7:00PM, Tuesdays and Thursdays
- VIA Zoom
The aim of this program is to assist newcomer youth with their academic needs and help them build self-confidence in completing their school projects on time.
- led by youth staff from RODS
- facilitated by volunteers from the community.
- open for youth ages 13 – 24 who are Permanent Residents (PR's)
Please share this information with newcomer youth.
Registration Link: https://rods.sk.ca/rods-homework-club-registration-form-
Computer Coding Camp Program for Youth
The Regina Open Door Society Welcoming Community for Newcomers (WCN) Youth Program, in collaboration with RODS Employment department started the coding program on Oct 18, 2021 at 5:00PM. Registration is ongoing, so it is not too late to register!
CODING CAMP: To provide youth with experience in computational thinking and coding. Youth will learn how to describe and decompose a problem, create an algorithm, write code, identify the important details needed to solve a problem and then test the solution.
Date: October 18, 2021 until December 6, 2021
Day & Time: Mondays and Fridays starting 5:00PM - 7:00PM
Location: Via Zoom
Technology required: To join the program students need a laptop or computer, internet connection and a Zoom account.
How to register: https://rods-sk-ca.zoom.us/meeting/register/tZUlc-ihrDMuGtyMNoWEcrZhpqkXdGtiOb7G
Registration is ongoing and open for youth ages 18 – 29 who are:
- Legally entitled to work in Canada (including temporary residents)
- Assessed at CLB 4 and above
- Newcomer youth who have been in Canada for five years or less as Permanent Residents (PR's)
If you have any questions about this program, contact Zainabu via email: [email protected] or 306 -550 -1839
---