Free Webinar: "Supporting the Integration and Mental Health of Arabic Speaking Refugee Youth and Their Mothers."
---
---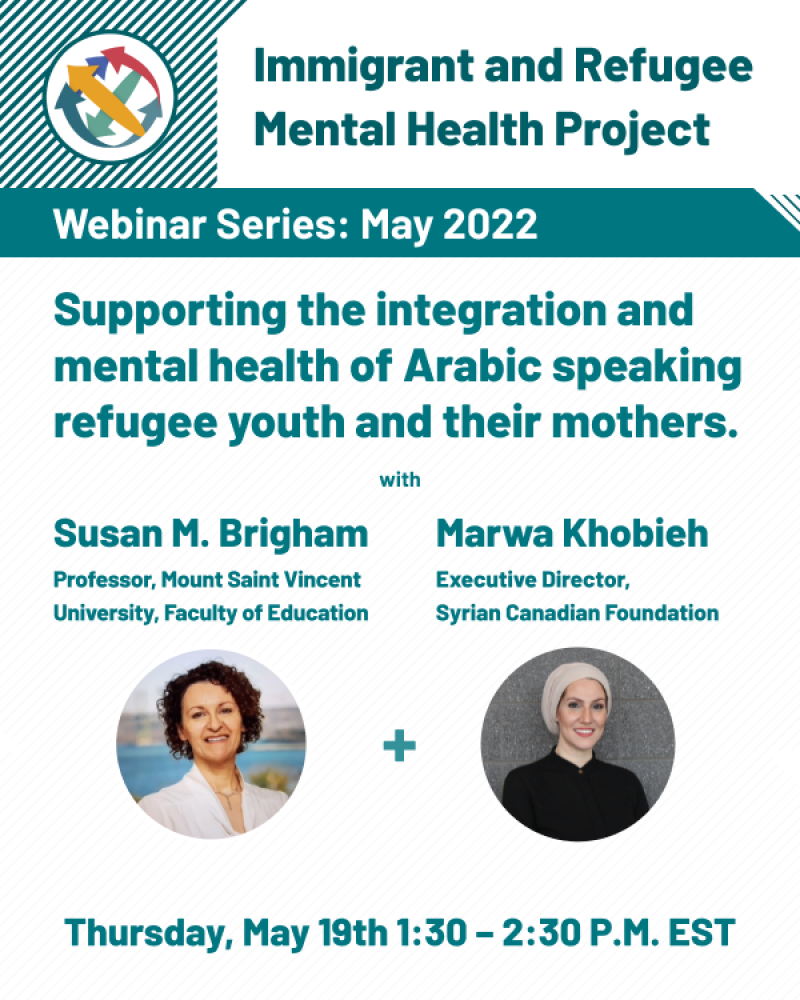 Join the Immigrant and Refugee Mental Health Project's monthly webinar series!
In this webinar, Susan Brigham and Marwa Khobieh share findings from their study with Arabic-speaking refugee youth and their mothers who participated in focus group interviews to explore their perceptions and experiences of trauma and developing coping skills as they settle in the Greater Toronto Area.

The youth highlighted issues related to school and peer-relationships, while mothers emphasized relationships with husbands and work outside the home.
The mother-child relationship is central for preventive mental health interventions, while fun, active youth-focused programs and women-focused activities help to address tensions and promote positive mental health outcomes.
The role of cultural community organizations is vital for settlement, even more so during the pandemic.
Thursday, May 19th 11:30 – 12:30 P.M. CST (Sask. time)
Live via Webex
Presenters
Susan M. Brigham, Ph.D is a full Professor in the Faculty of Education at Mount Saint Vincent University. She is of African descent from an immigrant family. She taught in schools in Kuwait, Ireland, and Canada before becoming a professor. Susan's research interests include migration, adult education, teacher education, Africentricity, Critical Race Theory, and arts-informed research methodologies.
Marwa Khobieh is the Executive Director of The Syrian Canadian Foundation (SCF), which aims to empower newcomers and people of diverse backgrounds and promote cross-cultural connections within Canadian society.
---