Free Professional Development - Supporting Our Own Resilience in Trauma-Exposed Work
---
---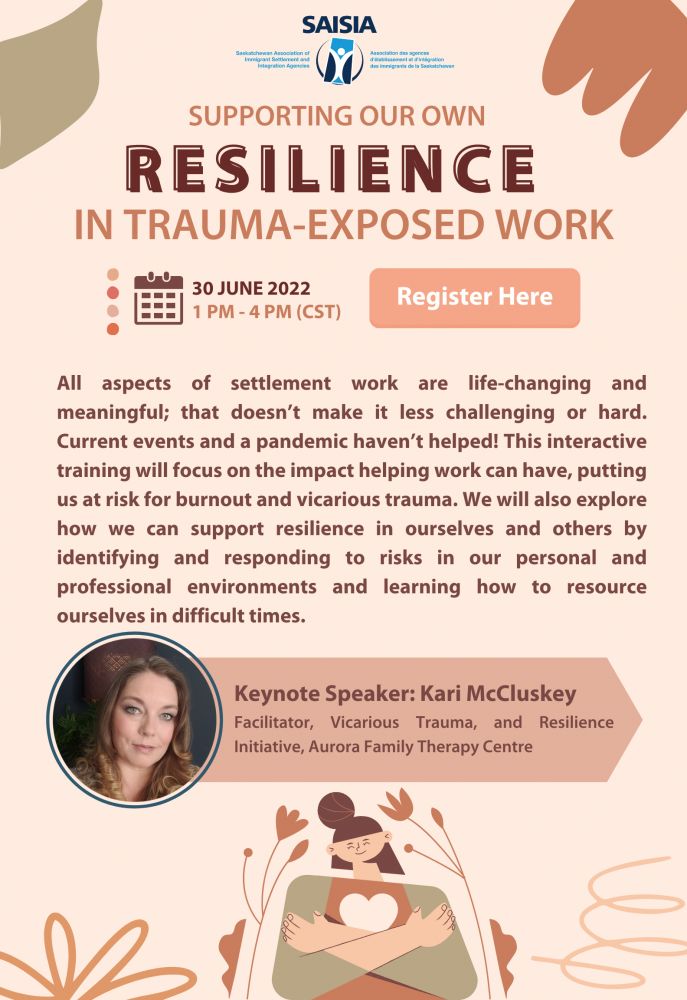 Free Professional Development - Supporting Our Own Resilience in Trauma-Exposed Work
All aspects of settlement work are life-changing and meaningful; that doesn't make it less challenging or hard. Current events and a pandemic haven't helped! this interactive training will focus on the impact helping work can have, putting us at risk for burnout and vicarious trauma. We will also explore how we can support resilience in ourselves and others by identifying and responding to risks in our personal and professional environments and learning how to resource ourselves in difficult times.
The training will allow us to:
1) Identify and track stress patterns and responses in our nervous system
2) Understand risk factors for burnout and vicarious trauma
3) Identify risk and resilience factors in our own behaviour
4) Understand how negativity bias and the brain activate trauma experiences
5) Practice regulation strategies
Our keynote speaker is Kari McCluskey - the facilitator of the Vicarious Trauma and Resilience Initiative at Aurora Family Therapy Centre where she provides workshops and peers support for settlement service providers who are committed to creating positive transition and integration experiences for Canadian newcomers. Kari is an advocate for cultures of wellness in the workplace and helping "helpers" recognize, understand, and respond to the impacts of long-term (dis)stress, burnout, and vicarious trauma so that we may continue to do this important work in a sustainable way.

---